Get the AANR Cap, Bumper Stickers, Flags or Nudist and I Vote Button!
THERE HERE!!
The 2021 INTERNATIONAL SKINNY DIP DAY HATS!
Get them before their sold out, again!
A donation of
USD $18.00
* To order please use the form to make a secure donation to AANR.
Place the cost of the hat of the in the amount box and AANR will ship promptly .
Click on the pictures to donate.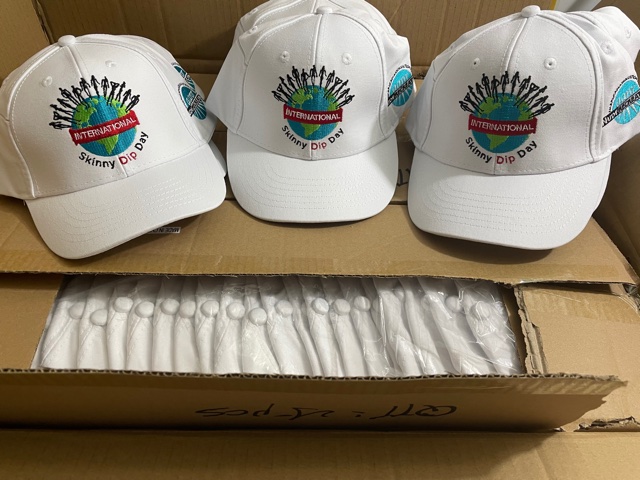 Click on the items below to make a donation to the AANR Legal Defense Fund in the amount of $5.00 for each bumper sticker or pin and for a limited time only, your donation comes with a free thank you gift.
Click on the product you would like and enter your information on our donation form.
---
---
---
---
Show your support with an AANR flag!
AANR flags now for sale in small and large.
Call the AANR office at 800-TRY-NUDE (800) 879-6833 for more information or to order.
*Small Flag - $42.00 (includes shipping & handling)
*Large Flages -$72.00 (includes shipping & handling)
*price does not incude tax in Florida
This is a big year for political campaigns and elections-- both local and national--and showing support for your nudist-friendly candidates has never been more important.This November, let everyone know that nudists make a difference by wearing the Nudist & I Vote button to the polls when you cast your vote. You will also be making a difference since proceeds go to AANR's Legal Defense Fund, which helps ensure your right to enjoy nude recreation. Shipping and handling is included in your donation.
Get some for yourself and some to share with your friends!
To donate and receive your bumper stickers or button by mail, send a check with "Legal Defense Fund" in the subject line to:
AANR
1703 North Main Street
Kissimmee, FL 34744
Questions? Call 800-TRY-NUDE (800) 879-6833